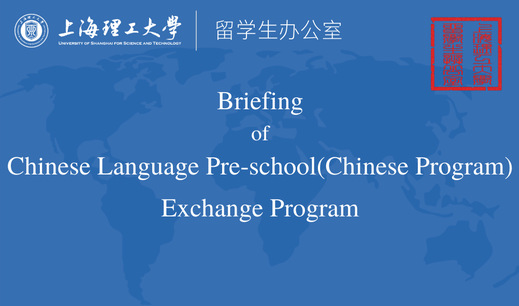 (Chinese Language Pre-school)
The Chinese Language Preparatory Teaching is a Chinese language teaching program for international students who plan professional study in China's higher education institutions, which is carried out during February-June (spring semester) and September-January (autumn semester) each year in order to improve the Chinese language competence of international students coming to China and increase their understanding of the Chinese culture, so that their Chinese language proficiency and Chinese cultural awareness could meet the basic standard required in the entry of Chinese higher education institutions for academic study.
The Chinese Language Preparatory Teaching is carried out in form of intensive education, with one academic year, or two semesters of intensive study. Elementary Chinese courses are taught in the first semester, consisting of 16 weeks, with 20 class hour each week. The second semester is designed for intermediate Chinese courses, also consisting of 16 weeks, with 20 class hours each week. An additional 10 weeks (3 class hours per week) are set aside for tutoring courses aimed at passing the HSK test. The curriculum is designed to intensify learners' Chinese competence in various aspects as listening, speaking, reading and writing, so that the international students could acquire basic Chinese language proficiency in a relatively short period, equip themselves with solid Chinese language communication ability, understand fundamental Chinese humanistic knowledge and build a necessary cross-cultural communication capability.
Elementary Chinese Courses (320 class hour,1 class hour=45 mins)
Course Title

Class Hour/Week

Number of Weeks

Elementary Chinese:

Comprehensive

8

16

Elementary Chinese: Speaking

4

16

Elementary Chinese: Listening

4

16

Elementary Chinese: Reading and Writing

4

16
Intermediate Chinese Courses (350 class hour,1 class hour=45 mins)
Course Title

Class Hour/Week

Number of Weeks

Intermediate Chinese:

Comprehensive

8

16

Intermediate Chinese: Speaking

4

16

Intermediate Chinese: Listening

4

16

Intermediate Chinese: Reading and Writing

4

16

HSK Tutoring

3

10
Application fee:400RMB
Tuition:9500RMB/semester 19000RMB/academic year
(1500 USD/semester 3000 USD/academic year)
Ways of Payment:
(1) Payment on the spot (RMB/CNY only):
Please go to Hujiang College, Office 107 for on-the-spot payment
(2) Bank transfer(See detailed information of USST bank account)
NB.
1. Please remark your name at account transfer and purpose of remittance "Shanghai International Education College Chinese Language Courses"
2. For the enrollment of international student under the age of 18 whose parents do not permanently reside in China, the university must ask the student's parents to entrust other foreigns or Chinese permanently living in China to serve as the custodian of the student in question and provide relevant materials.
CONTACTS
HUJIANG COLLEGE
‍‍No. 516 Jungong Road, Yangpu District, Shanghai‍‍‍‍
‍‍Postcode:200093
‍‍Tel: 021 - 5527 1930 (Ms. FEI)
‍‍Email:scie@usst.edu.cn
Application Form:
Application Form for International Students (Language Students) (2).doc
(Exchange Program)
STEP 1: NOMINATION BY YOUR HOME UNIVERSITY
The home university should send the names of nominated students to Hujiang College, exchangestudents@usst.edu.cn
Please send the following information regarding your student(s):
Name
Current E-mail Address
Semester (Autumn/Spring or Academic Year)
Study Field and Study Level
STEP 2: APPLICATION DOCUMENTS
1 Please fill in and submit the Application Form to exchangestudents@usst.edu.cn or usstexchange@hotmail.com
2 Copy of passport
3 Application form download * CLICK HERE TO DOWNLOAD
STEP 3: PROCEDURE
We will receive application from April 1 to June 15 for Autumn Semester and October 1 to December 15 for Spring Semester. If anything is missing, we will contact you by e-mail. By the end of this period you and your coordinator will receive a Letter of Acceptance by email and an official JW202 Form for visa application (visa type X) by post.
Grading System
(1) The Chinese Credits System used by USST is based on the class instruction time for subjects. In USST, one academic year consists of two semesters, the total number of weeks of instruction in a semester is 16.
(2) 1 WHS (weekly hour per semester) = 45 minutes of class instruction multiplied by 16.
1 academic hour = 45 minutes;1 credit = 16 hours workload of classes
(3) Type of Course. The score of the examination courses is graded in a hundred-mark system, courses with no examination will be evaluated with Grades instead of score.
Module Assessment Standard of USST

Grade

Score

GPA

A

90-100

4.0

B+

85-89

3.5

B

80-84

3.0

B-

75-79

2.5

C+

70-74

2.0

C

61-69

1.5

D

60

1.0

F

<60

0
(4) Special System in SBC
The Sino-British College (SBC) is an international university college jointly established by University of Shanghai for Science & Technology (USST) and 9 leading British Universities. SBC offers UK undergraduate degree credits and the full degree programs taught entirely in English.
Module Assessment Standard of SBC

Grade

Score

Result

A*

80-100

Pass

A

70-79

Pass

B

60-69

Pass

C

50-59

Pass

D

40-49

Pass

E

<40

Fail
Courses in English
The list of courses may change by the beginning of the semester due to unforeseen circumstances and mostly because of timetables, which are not ready when the courses are offered. Timetables will be available when you arrive. Make changes are allowed in your Learning Agreement once you have arrived. The courses will be more or less the same as last year, but make sure that the list is not 100% the same. You can find the previous course list here for reference.
NB.
Only exchange student from partner universities can apply for internship in China; free-movers do not have the qualification. When internship in USST is over, you may get the credit points required for your internship at your home university. The internship has to be part of your studies. Internships are generally not paid in China.
CONTACTS:
Ellen Liang
exchangestudents@usst.edu.cn
usstexchange@hotmail.com
MAP: