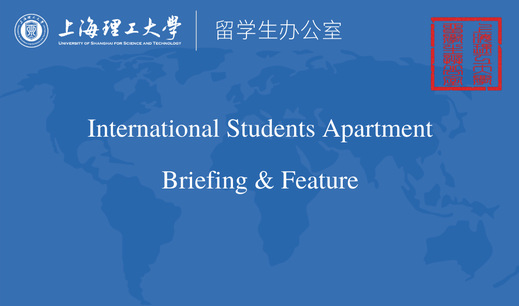 Indoor Facilities:
Facilities

Items

Instructions

Furniture

bed, wardrobe, desk, chair, bookshelf, etc.

Please use carefully and don't move it to aisles or other places.

Electric Appliance

air conditioner. (Other electric appliance is forbidden to use).

Please operate according to instructions. And any non man-made breakdown is to be reported for repairs.

Bedding

bed sheet, quilt, mattress, quilt cover, pillowcase, pillow (one for each ) are provided on your requirement for short-term visiting students by the apartment.

NB. For Degree Students, prepared by yourself

Please change and clean beddings all by yourself, and return all the articles while checking out; as for long-term visiting/exchange students, the bedclothes will not be prepared by the apartment but yourselves.

Internet

broadband access.

Students need to pay for internet fee on your payment.

Bathroom

sprayer, basin, toilet, shower curtain, hot water power, etc.

Please take care of the facilities. And any non man-made breakdown is to be reported for repairs.

Spraying smoke sensor

two in each room.

If there is heavy smoke or fire in the room, the smoke sensor will alarm automatically and start to spray water.
Public Facilities:
| | | |
| --- | --- | --- |
| Facilities | Items | Instruction |
| Water Dispenser | 1 in each public room on each floor; hot & cold drinking water | Please follow the instruction in case of the scald. Don't use drinking water for other purpose. |
| Laundry Service | 6 automatic washing machines and 2 drying machines in the laundry room of the ground floor | CNY3.5/barrel for washing. CNY7/barrel for drying (8Kg full load). A washing card is needed for laundry service. Please buy the card at the reception desk of the apartment with CNY50/card (including a deposit of CNY15). |
| Public Kitchen | 1 induction cooker, 1 microwave oven, 1 table, and 4 chairs in each public kitchen from Floor 2 to Floor 4 | Please follow the instructions and stay aside while cooking to avoid electric leakage from spill-over. Insert card to take electricity and switch off electricity when finish. Don't move the oven to other places. |
| Public Area | 2 desks, 6 chairs | The hallways of Floor 2 and Floor 3. |
| Guest Hall | tables, chairs | Floor 1 |
| Access Control | Main entrance and room entrance | Put the card close to the imprinters of the gate, wait for the green light before entering; Report the loss of the card at the reception desk and pay CNY15 for a new card/room key. |
Guide to Living outside Campus
Ø Students living off-campus should have certain Chinese communicative ability. Those at the age under 20 should demonstrate the approval letter from their parents for off-campus accommodation.
Ø Students who want to rent an apartment have to rent/buy via regular estate agencies. A student needs to ask for a Liability Letter for Lease Security from the landlord when renting a private property. He also has to sign a rental contract with the landlord.
Ø International students should bring his/her passport, rental contract, security license (provided by the landlord) to international student office to get the Off-campus Accommodation Registration Form and go to local police station with required documents to get registered within 24 hours after moving into the lodging place. Anyone who does not register within three days will be fined. Then the student will go to the Division of Foreigners, Exit-Entry Administration of Shanghai Public Security Bureau to update his/her Residence Permit within 10 days after moving into the lodging place; otherwise, he/she will be punished by the police force.
Ø Close windows, turn off electricity, water taps and gas taps, and lock the door whenever you leave your apartment. Keep an eye on your personal property. Pay attention to your own safety and security. If there is any accident, please do not hesitate to notify the counsellar of the college and the International Students Office.
Ø In urban area of Shanghai, motorcycle license is not applicable. Please do not buy any motorcycle.
Ø Please bear in mind the following commonly used phone numbers:
Police 110 First-Aid 120 Fire 119
Telephone number inquiry 114