With a history of over 110 years, University of Shanghai for Science and Technology (USST) has many distinctive features. As a key university included in the "Double First-class Initiative" of Shanghai, it is co-sponsored by the State Administration of Science, Technology and Industry for National Defense and the Municipal Government of Shanghai. Focusing on engineering, the school has seen a balanced development of other such disciplines as engineering, science, economics, management, literature, law and arts, making it an application-research oriented university under the key construction of Shanghai City.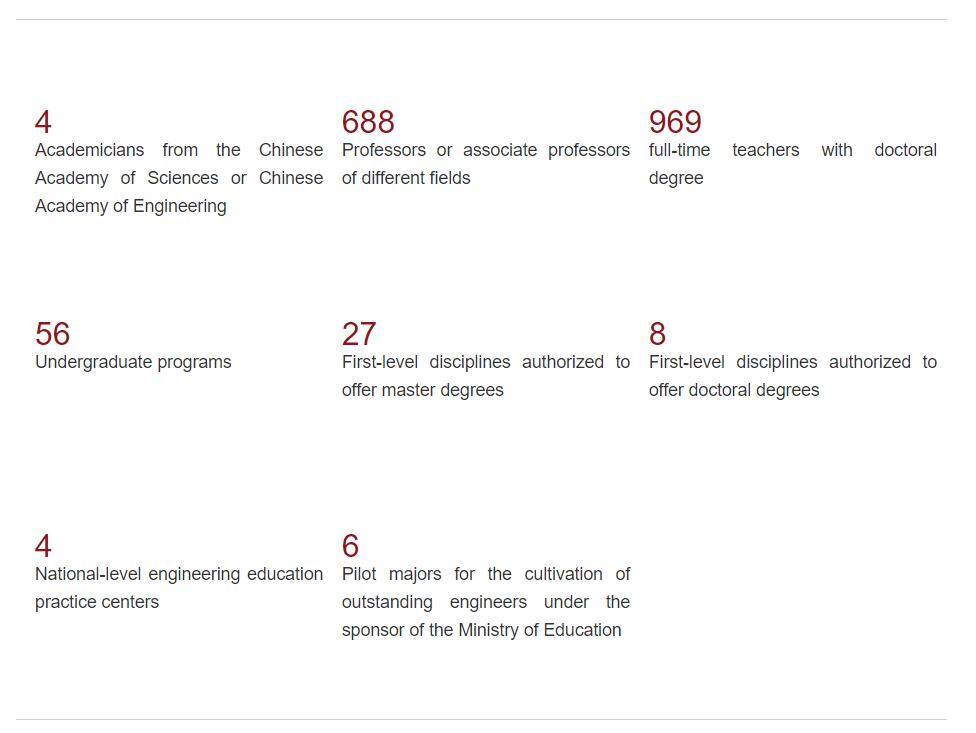 Emerging from the University of Shanghai founded in 1906 and the German Medical and Engineering School set up in 1907, USST has enjoyed a renowned reputation as the "Whampoa Military Academy in Manufacturing Industry". Carrying on its motto of "Integrity, Righteousness, Diligence, Love, Pondering, Learning, Aspiration, Ambition", the school aims to cultivate students with knowledge, ambitions, as well as socialist core values. The university has provided the country with more than 100 thousand professionals in many different fields.
Currently, USST has more than 24 thousand students, among which 17,000 are undergraduates and 7, 500 are post-graduate students. There are 15 schools, 2 departments of education, 56 undergraduate programs, 8 first-level disciplines authorized to offer doctoral degrees, 4 post-doctoral research stations, 27 first-level disciplines authorized to offer master degrees and 11 professional master degrees. In terms of platforms for talent cultivation, the university possesses 3 national-level special-feature majors, 6 pilot majors for the cultivation of outstanding engineers under the sponsor of the Ministry of Education, 1 pilot major of comprehensive reform of MOE, 3 national-level experimental teaching demonstration centers, 4 national-level engineering education practice centers, 2 national-level virtual simulation experimental teaching centers, 1 national-level continuing education base for professional and technical training, 1 national-level engineering laboratory, 1 national-level quality supervision and inspection center, 1 national-level university science park, 1 national-level technology transfer demonstration institute and 26 provincial or ministerial-level scientific research platforms.
Adhering to the strategy of "developing in partnership with outstanding faculty", the university now has 1664 full-time teachers, of which 969 are PhDs and 688 are professors or associate professors of different fields. There are 4 academicians from the Chinese Academy of Sciences or Chinese Academy of Engineering, 16 from the "Thousand Talents Program" and 3 from the "Young Thousand Talents Program" of the Organization Department of the Central Committee of the CPC, 3 professors hold the title of "Yangtze River Scholar" nominated by MOE, 2 members of the Discipline Appraisal Group of the Academic Degrees Committee of the State Council, and 15 enjoying the Special Government Allowance from the State Council.
To enhance scientific and technological competitiveness, the university is advancing its key disciplines so as to serve the national innovation-driven strategies. Over the last three years, USST has won two second prizes in the "National Awards for Science and Technology", 57 provincial or ministerial-level prizes, 1 military progress prize in science and technology. It has also carried out research on 269 national projects and had 63 theses cited by ESI and has been issued 902 patents. With a strong capacity of technology transformation, the National University Science Park of USST ranks the sixth, the Technological Transfer Center ranks as the seventh in China, and the scientific funds and patents of invention have always been among the top 50 universities of China.
As one of the earliest universities to start international cooperation, the university has two Sino-foreign cooperative education institutions, namely, the Sino-British College and the Sino-German College. It is cooperating with more than 120 universities in over 20 countries, such as the United States, Britain, Germany, Canada, Japan, Australia, and Ireland. At present there are over 1,000 international students and more than 500 of them are pursuing academic degrees.
In the important period of strategic opportunities for China to build "top universities and top disciplines" and for Shanghai to build high-level local universities, with the three international laboratories of future optics, intelligent manufacturing and medical equipment & rehabilitation engineering the platform of systems management as basis, USST is developing such top disciplines as optical engineering, systematic science, power engineering & engineering thermos-physics, mechanical engineering and biomedical engineering. With the goal of building itself into a top university of science and technology with outstanding features, USST will spare no efforts to seize opportunities to reform and innovate to realize its high-level development.
| | |
| --- | --- |
| Categories of Talents | Number |
| Academicians of the Chinese Academy of Sciences or the Chinese Academy of Engineering (members of both institutions and foreign members included) | 10 |
| Members of the Discipline Appraisal Group of the Academic Degrees Committee of the State Council | 2 |
| Members of the Review Group for Funds of the National Natural Science Foundation | 2 |
| Leading Talents of the Ten Thousand Talent Program | 4 |
| National Young and Middle-aged Experts with Outstanding Contributions | 5 |
| Selectees of the Hundred Talent Program, Thousand Talent Program or Ten Thousand Talent Program of China | 6 |
| Experts Enjoying the Governmental Special Allowance of the State Council | 9 |
| National Excellent Talents | 20 |
| Chair professors of Changjiang Scholars Program of MOE | 3 |
| Selectee of the Changjiang Scholars Program of MOE | 1 |
| National Excellent Teachers | 3 |
| Teacher Supported by the Outstanding Young Scholar Fund of the National Natural Science Foundation | 1 |
| National Model Teacher | 1 |
| Teachers Supported by the MOE's Program for New Century Excellent Talents in Universities | 7 |
| Teachers Supported by the MOST's Program of the Young and Middle-aged leading Scholar for Innovations in Science and Technology | 2 |
| Leading Talents of Shanghai | 8 |
| Excellent Talents at Provincial or Ministerial Level | 44 |
| Shanghai Subject Chief Scientists | 4 |
| Top Young Talents of Shanghai | 2 |
Scientific Research Platforms
National Engineering Research Center

1

National Engineering Research Center For Industrial Process Automation

National Engineering Laboratory

1

National Engineering Laboratory of molecular

immune diagnostic reagents

Collaborative innovation center of the Ministry of Education

1

Ministry and Municipality Co-built Collaborative Innovation Center of Terahertz Spectroscopy and Imaging Technology of Shanghai

Overseas Expertise Introduction Project for Discipline Innovation (Shortened as "111 Project")

1

Overseas Expertise Introduction Center for Innovation in Terahertz Precision Biomedical Technology

Promotion Plan for Innovative Talents

1

Demonstration Base of Innovative Talents Cultivation

Key Laboratory of the Ministry of Education

1

Key Laboratory of Medical Optical Technology and Apparatus

Engineering Research Center of the Ministry of Education

2

Engineering Research Center of Modern Minimally Invasive Medical Devices and Technologies

Engineering Research Center of Optical Instruments and Systems

Key Laboratories of Shanghai

2

Shanghai Key Laboratory of Modern Optical Systems

Shanghai Key Laboratory of Multiphase Flow and Heat Transfer of Power Engineering

Engineering Technology Research Centers of Shanghai

5

Shanghai Engineering Technology Research Center of Powder Metallurgy Automotive Materials

Shanghai Engineering Technology Research Center of Numerical Control Machine Tools

Shanghai Engineering Technology Research Center of Rehabilitation Instruments

Shanghai Engineering Technology Research Center of Food Microorganism

Shanghai Engineering Technology Research Center of Interventional Medical Devices

Professional Services Platform of Shanghai

3

Shanghai Technical Service Platform of Ultra-Precision Imaging Optical Processing and Detection

Shanghai Technical Service Platform of LED Device Testing

Shanghai Low Temperature Biomedical Technology Service Platform

Key Laboratories of China Machinery Industry Federation

6

Key Laboratory of Precision Grinding Technology for Machinery Industry

Key Laboratory of the Application of Environmental Protection Refrigerants in Machinery Industry

Key Laboratory for Strength and Reliability Evaluation of Chassis Parts in Machinery Industry

Key Laboratory of CNC Machine Tool Optimization Technology in Machinery Industry

Key Laboratory of Precision Photoelectric Testing Technology and Instruments in Machinery Industry

Key Laboratory of High Efficiency Combustion and Ultra-Low Emission of Coal (Gas) in Machinery Industry

Collaborative innovation center of Shanghai

1

Collaborative Innovation Center for Shanghai Terahertz Spectrum and Imaging Technology

Key Laboratory of the Ministry of Civil Affairs

1

Key Laboratory of Neural Function Information and Rehabilitation Engineering

Civil-military Integration Base of Shanghai

1

Shanghai Civil-military Integration Service Platform on Ultra-precision Optical Manufacturing

International Joint Research Laboratory of Shanghai

1

International Joint Laboratory of Terahertz Technical Innovation

Key Laboratory of the General Administration of Press and Publication

1

Key Laboratory of Digital Communication Science

Key Laboratory of the Integration and Development of Publication

1

Key Laboratory for Publishing and Convergence Development

Engineering Research Center of the General Administration of Press and Publication

1

Digital Printing Engineering Research Center

Key Research Institute of Humanities and Social Sciences

1

Institute for China Neighboring Economies

Shanghai Innovation Research Base of Social Sciences

1

Administrative System Reform and Service-oriented Government Construction

Decision-making Consultation Research Base of Shanghai Municipal Government

1

Internet-plus-based Research Base of Shanghai's Innovation and Development